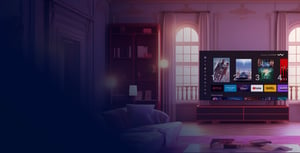 Elevating video experience on
every screen
Maximise engagement while minimising complexity with best-in-class video app development tools and cloud gaming solutions.
OUR SOLUTIONS
Helping businesses solve customer engagement, branding and loyalty challenges in a rapidly evolving digital landscape
Bespoke Video Experiences
Deliver a tailored, branded video app experience across Smart TVs, set-top boxes, mobile and web with our end-to-end solution from conception to launch.
Off-the-shelf video app solutions
Reduce time-to-market and cost by leveraging our turnkey assets with cutting-edge design, that can be rapidly customised.
Streamava End-to-End Cloud Gaming
Drive customer loyalty and increase revenue with the industry's highest quality, multi-screen cloud gaming experience, entirely managed by our experts
.

In a dynamic market, sustaining customer engagement and loyalty is crucial.
For over 15 years, we have led with products that consistently differentiate our clients, elevating the customer experience without compromising quality. Our portfolio is engineered to adapt to changing market conditions with agility, so you stay ahead of competition in a rapidly evolving market.
SFR TESTIMONIAL
Using Timeless to create the next generation video experience
"Congratulations to the teams for the work they have done to ensure the commercial launch of Gen8. It's an amazing team effort. I count on you to accompany the continuation of the roadmap. Still BRAVO!"
WIZTIVI'S DNA
Our value proposition
Bring your video applications and cloud gaming vision to life with a trusted partner.
15+ year track record of success
More than a decade at the forefront of the multi-platform video and cloud gaming solutions. Trusted partner to the telecoms, broadcast and media sectors.
One-stop shop for all development needs
From design through to development and ongoing management, we provide a combination of off-the-shelf tools and bespoke solutions to address your needs.
Relentless focus on customer experience
No solution is the same, but each unique deployment builds on our deep market insight and understanding of your customer needs to address your vision on every device.
The most experienced Team in the industry
Tap into more than a decade of know-how and experience with our team of experts to craft innovative solutions that deliver on expectations.
NEWSLETTER
Stay ahead with exclusive insights
Subscribe to our newsletter and stay at the forefront of video user interface and cloud gaming innovations.