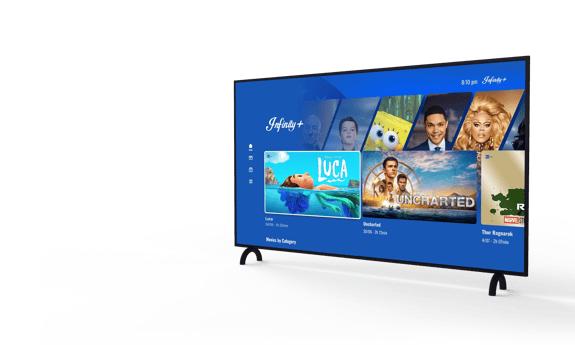 Off-the-Shelf Video App solutions
Save time, reduce cost and leverage cutting-edge design for your branded video app READY-TO-DEPLOY SOLUTION TO STAY AHEAD OF COMPETITION
In a fast evolving marketplace, with demanding customers and a fragmented device universe, you need to act fast to retain customers through personalised experiences and relevant content.

Launch or upgrade your video presence with our OTS Video App Solution. It enables a quick launch of cutting edge video experiences that integrate smoothly with your existing setup.

Benefit from our industry expertise and powerful back-office management console to fast-track your video app deployment, saving time and cost while maintaining a uniform, superior user experience.

Eliminate Long Development Cycles: Drastically reduce time to market. Our teams leverage Timeless to rapidly build your video app.
Guarantee Cross-Platform Consistency: Ensures a uniform user experience across various platforms, eliminating the challenge of maintaining consistency.
No Integration Issues: Our teams ensure the solution is seamlessly integrated with 3rd parties.
Market Adaptability: Swiftly adapt to changing market conditions without cumbersome modification processes.
Start with Great Design - cutting-edge design templates to begin with.
Key Capabilities
Intuitive Tools and Features: The solution is equipped with a range of marketer-friendly tools for ease of use
Customizable Interface: Allows for rapid customisation to align with brand.
Management capability at your fingertips: The comprehensive management console enables efficient control and monitoring of the app.
Access to Experts in design, operations and integration: With 15-years in the business, our teams can solve issues rapidly.
POWERED BY TIMELESS
The off-the-shelf (OTS) offering relies on Timeless to provide the base template, from where we can rapidly customise to keep costs under control and save time. This is ideal for Brands looking for rapid deployment without starting from scratch.
WE UNDERSTAND YOUR CHALLENGES
Being able to deliver a consistent video experience rapidly doesn't require an expensive team of skilled resources any more. Our solution addresses key issues facing Telecoms, Media and Content owners worldwide.
Customer Quality Expectations
Today's consumers demand seamless, intuitive and fast video experiences. They expect to access content anywhere, anytime and on any device. Quality of experience is the number one driver of our solution deployment strategy. It requires the intricate knowledge of each platform to deploy new features without degrading the QoE on various platforms.
FLEXIBILITY AND SCALABILITY
Our solution makes it easy to add/remove features, change colour palettes, etc to maintain a fresh feel without the cost. We use Timeless to allow your marketers to keep the app up-to-date, and our license model allows you to pay as you grow, so scalability costs are aligned with growing revenue.
Technology integration issues
Ensuring compatibility across various platforms and devices while maintaining high performance is a complex science. Our experts bring more than a decade of expertise and know-how to solve compatibility challenges, across the legacy infrastructure as well as emerging technologies.
Managed Services & Support
Our teams are here to support ongoing management of the solution so your marketing teams can focus on designing compelling experiences. We are flexible in terms of level of support needed to manage the apps.
OUR KEYS TO YOUR SUCCESS
Cross-platform compatibility
Our solutions ensure consistent performance, irrespective of the device or platform, giving users a fluid experience.
Leveraging our open development Framework, we design experiences that resonate with your brand and cater to your audience on all screens.
With support from 200+ technologists and video experts, our products are designed to scale, ensuring you're ready for tomorrow's growth.
With our cutting-edge UI designs, we amplify user engagement, directly translating into heightened revenue opportunities.
Schedule a meeting with our experts
Meet with our experts.
We are here to answser all your questions.












Grow your business with the Wiztivi services and solutions
Want to know more about how we can support you?
Submit your ideas or projects to us: we know how to bring them to life while supporting your growth.