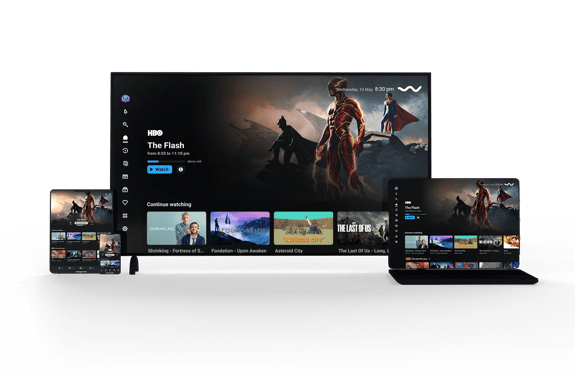 Timeless
Best-in-class, fully integrated UX design and management console for cross platform video application deployment Bring your vision to life
Empowering marketers to build compelling video experiences in-house with no-code
No-code management console design for marketing teams.
Bring your designs to life through a rich set of customisable features available directly in the management console.
Start with a cutting-edge set of templates and module dedicated to TV experience and customisable to your requirements at a fraction of the time and effort.
Harness the power of a full professional Design System, personalisation and analytics capabilities to optimise your customer engagement.
Consistent experience across all your devices
Powered by our open development framework, Timeless guarantees a high-quality, consistent video experience for your customers across all devices.
Reach your audiences on all platforms
Whether Samsung, Android, Apple, LG or Playstation, Timeless enables rapid deployment and efficient customer journey management across all platforms, significantly reducing time to market, cost and complexity.
Marketer Friendly Console Design
From on-the-fly configurations to cross-platform content management, we keep the technology under the hood so you can focus on designing stand-out video experiences.
Integration-ready with faster time-to-market
Timeless is designed for easy integration with content back-ends, recommendation engines or billing systems. A rich set of existing integrations with ecosystem partners means a faster time-to-market without sacrificing quality.
BOOST ENGAGEMENT, OPTIMISE JOURNEYS AND PERSONALISE YOUR VIDEO EXPERIENCE
Unified console with modules to manage designs, enhance customer engagement such as analytics, A/B testing, integrations with recommendation and advertising engines and more.
COMPLETE END-USER EXPERIENCE MANAGEMENT IN THE NO-CODE CONSOLE
Manage content structure, section and navigation.
Own your page design, content modules, look & feel.
Intantly preview your Smart TV or STB end-user experience directly in browser.
Run A/B testing on market or device segments.
CUSTOM LAUNCHER, APPS, PROFILING, PARENTAL CONTROLS - INCLUDED AS STANDARD
Manage global search, partners' Apps, Settings, ... seamlessly between your AndroidTV custom launcher and Apps on other target devices.

Allow users to create profiles and personalise their experience with themes and dedicated content.
DEPLOY EVERYWHERE WITH A FEW CLICKS
Timeless is underpinned by the Wiztivi Framework, which enables high quality video experiences and native performance across all major platforms.
AndroidTV custom launchers, Linux STBs, mobiles or tablets - are all managed efficiently with Timeless.
BEST-IN-CLASS TV UX AND UI COMPONENT LIBRARIES
Stay on top of usability and UX trends with best-in-class design libraries, components and features accessible within Timeless, specifically designed for TV Apps.

Easily tap into features like bundles, highlights, branded corners, EPG designs, etc.. that enhance the branded video experience, all with a no-code console harnessing the power of the Wiztivi Framework.
INTUITIVE DESIGN SYSTEM, WORKFLOW & TOOLS FOR TV APPS, CREATED WITH MARKETERS IN MIND
Best-in-class UX design libraries, components and features following technology and end-user trends, dedicated to TV Apps.
Fully implemented professional Design System using components and tokens to enable rapid creation of screens.
PROFESSIONAL DESIGN MANAGER
Professional design system built in FigmaTM with all manageable and configurable components, tokens, ...
Auto-import styles and assets into Timeless in two clicks with the Wiztivi theme editor plugin and shape shift instantly to a new brand.
IN-APP ANALYTICS AND INSIGHTS
Gain valuable insights into user behavior and app performance with built-in analytics tools.
Quickly run A/B testing on a user or device segment and choose the best design.
Understand user engagement, identify pain points and make data-driven decisions to optimize your app's performance and user satisfaction.
Request access to the full documentation
Get access to the full documentation,
Test & run Timeless and our pro Design System in minutes
WHY YOU NEED TIMELESS
Consistent cross-platform EXPERIENCE
Ensures a unified UX across all devices, maintaining brand consistency and providing all customers with a uniform experience.
Accelerated Time to Market
Allows rapid deployment of new features, shrinking time to market and improving responsiveness to market demands.
Cost Efficient build and evolution
Eliminate need to maintain separate apps or interfaces with large teams and specific skills, resulting in significant cost savings.
Universal Compatibility
One-stop solution for your needs, seamless integrated with a wide range of OS platforms such as Android TV, Samsung, LG, Apple TV, Xbox, Playstation and many more.
Marketer-Friendly UI/UX
Easy management of video content display without any technical know-how. Save time and resources and enjoy a seamless experience.

Modular Design System
Intuitive system

to manage design elements, components, and patterns consistently and efficientl, enabling the creation of cohesive and user-friendly interfaces with ease.















Altice Gen 8
Using Timeless to create the next generation video experience
"Congratulations to the teams for the work they have done to ensure the commercial launch of Gen8. It's an amazing team effort. I count on you to accompany the continuation of the roadmap. Still BRAVO!"


Schedule a meeting with our experts
Meet with our experts, get a full demo and advices you need for your project.
We are here to answser all your questions.
Grow your business with the Wiztivi Timeless
Want to know more about Timeless?
Submit your ideas or projects to us: we know how to bring them to life while supporting your growth.