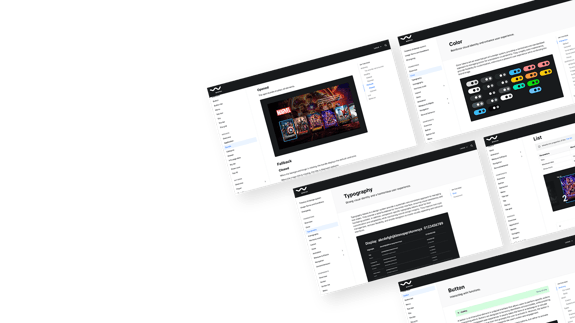 Documentation
Get access to our open documentation and start experimenting with our products in minutes













Committed to be fully Open and Transparent
We believe in being transparent on the way our products work

Our core product,

Timeless and the Wiztivi Framework documentation is fully accessible on request under our terms and conditions
Review features and quality yourself by accessing source files and code
Test & run our Development Framework, Design Sytem and Timeless in minutes
WIZTIVI FRAMEWORK
Write once, deploy everywhere. Native code, native performance on all your targeted devices.
Get access to:
Git & documentation
Framework, unit & performance testing tooling
Simple App source code
Build platform with device access
TIMELESS NO-CODE MANAGEMENT CONSOLE
Best-in-class, fully integrated UX design and management console for cross platform video application deployment.

Get access to:

Your management console to test Timeless
Modify structure and template. Create your rails and customize your section look and feel
Apply your brand with our theme manager
Visualize your video app in minutes on chrome
Access to the analytic dashboard demo
In combinaison with Wiztivi Framework, push your app to your Set-Top-Box or Smart TV and test our native performance
PRO DESIGN SYSTEM TAILORED FOR TV
Best-in-class UX design libraries, components and features following technology and end-user trends.

Online detailed documentation on all components
Figma source files with all templates, components, and tokens properly coded
Wiztivi theme configurator for auto import your brand into Timeless
Meet with our experts, to discuss your project.
Let's discuss: we know how to bring your vision to life while supporting your growth.