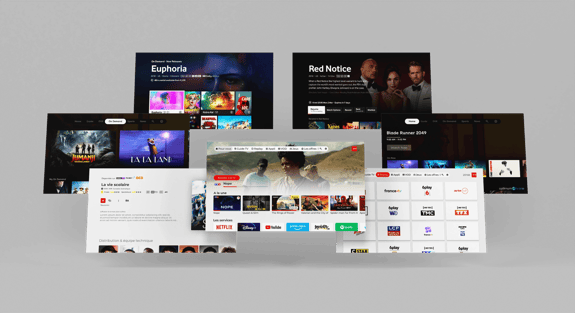 Bespoke video experiences
Managing your end-to-end solution from conception to launch THE COMPLETE OFFERING
Tailored to meet the dynamic demands of leading players in the Telecoms and Media sectors, we craft a distinctive, branded experience that fosters customer engagement and loyalty.
With the Wiztivi Framework we extend your video experience across all devices.
End-to-End solution crafted for you from concept to deployment
Latest roadmap features customised to brand requirements
Guaranteed consistent experience across the device universe
Dedicated experts providing end-to-end support & managed services
UNIQUELY YOU
Our mission is to amplify your brand's unique voice through personalized video experiences.

Our seasoned designers collaborate with your branding and marketing teams to create a distinctive solution.

On the technical side, we supplement our core roadmap with custom features that drive engagement and foster loyalty.
Managing Complexity. Ensuring Consistency.
With millions of customers on 100s of devices and more than a dozen platforms, ensuring a consistent branded video experience is huge challenge.
We solve this for you with our team of experts who manage some of the most complex device ecosystems in the world, and our open Framework that allows rapid mulit-platform deployment with a single code.
WE UNDERSTAND YOUR CHALLENGES
Our work on 100s of video projects ranging from legacy Linux STB launches, to cutting-edge Android TV, mobile, web, VR, and Smart TV apps, has honed our ability to overcome technical and design challenges to bring your vision to life.
Evolving customer demands
Today's consumers demand seamless, intuitive and fast video experiences. They expect to access content anywhere, anytime and on any device. Quality of experience is the number one driver of our solution deployment strategy. It requires the intricate knowledge of each platform to deploy new features without degrading the QoE on various platforms.
The Need for truly personalised experiences
Difficulties in providing a tailored user experience that not only reflects your brand but also end user preferences. Combining design expertise with personalisation features and analytics insights is required to craft impactful personalised experiences.
Technology integration issues
Ensuring compatibility across various platforms and devices while maintaining high performance is a complex science. Our experts bring more than a decade of expertise and know-how to solve compatibility challenges, across the legacy infrastructure as well as emerging technologies.
Monetization and scalability
We understand the challenges in monetizing the video platform and scaling it effectively to meet rising demand. We are continuously adding new features into our core offering to drive engagement and monetisation allowing you to earn as you grow.
OUR KEYS TO YOUR SUCCESS
Cross-platform compatibility
Our solutions ensure consistent performance, irrespective of the device or platform, giving users a fluid experience.
Leveraging our open development Framework, we design experiences that resonate with your brand and cater to your audience on all screens.
With support from 200+ technologists and video experts, our products are designed to scale, ensuring you're ready for tomorrow's growth.
With our cutting-edge UI designs, we amplify user engagement, directly translating into heightened revenue opportunities.
Schedule a meeting with our experts
Meet with our experts, to discuss your project needs.
We are here to answer all your questions.
Grow your business with the Wiztivi services and solutions
Want to know more about our bespoke solutions?
Submit your ideas or projects to us: we know how to bring them to life while supporting your growth.